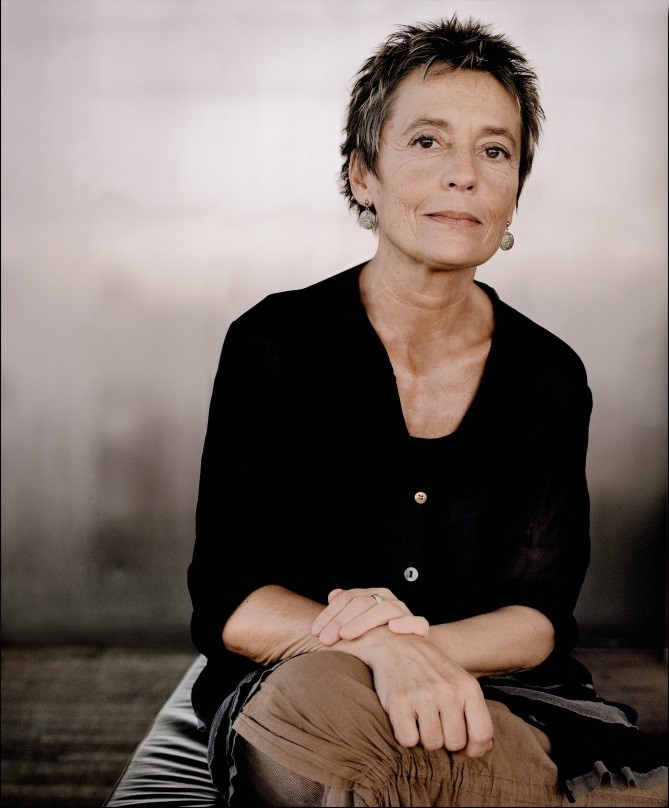 "Musik shall help Humanity"
Maria Joâo Pires
The Portuguese pianist Maria Joâo Pires receives the 7th International Beethoven Award  2021.
The International Beethoven Award for Human Rights, Peace, Freedom, Fight against Poverty and for Inclusion, initiated by Torsten Schreiber and Andreas Loesch, is being awarded for the 7th time. The price is endowed with 10,000 Euro. It is again being sponsored by the Auditing Firm and Tax Consultancy SOLIDARIS from Cologne. As in the years before the price trophy "Evolute", made of alabaster, is being crafted by the artist Dirk Wilhelm, Bad Honnef.
Due to difficulties in scheduling an appointment the price will be awarded in January of 2022. The ceremony will presumably take place on January 26, 2022, in the renovated Kursaal of Bad Honnef, near Bonn, a historical building, a gem of the art nouveau – Jugendstil – unique in the area.
Maria Joâo Pires has a very special view of the relationship between music and universal values and the connection between social and artistic activities She believes that social commitment has a positive influence on musicians – makes them "better". Since her youth she has been of the opinion that music and art are supposed to help mankind in general. She receives the Beethoven Award 2021 for her numerous music projects in very special social contexts and for her "Partitura" project with young musicians.
"My colleagues and I try to empower our students to find a better balance between the dream world of a career and the real world."
Maria Joâo Pires has shaped a new style in the interaction with young musicians, with her students. In her project "Partitura" she has a very distinct way of working with them. As opposed to classical Master Courses, the renowned and famous and the young artists deal at eye level with each other. Her main goal is that everyone should learn from the others crossing the generation gap so that real exchange takes place. Moreover, joint performances contribute to making known young musicians to a larger audience.
According to Maria Joâo Pires many artists lack a true perception of the real world and, therefore, a responsible approach towards their music. She has the young musicians cooperate in social projects, with children's choirs in psychic institutions, with children who are heavily traumatized or has her students even work in jails. The final concerts of her workshops usually take place in social institutions like hospitals or jails.
Maria Joâo Pires' students learn to respect and have responsibility towards composers and their works. In her "Partitura" project she shows them how music can act on human beings and affect an audience. Through working in this project a new approach to reality opens up for the musicians.  They see and meet people with heavy strokes of fate. The musicians realize there is another social reality and they feel a greater responsibility towards human beings. This greatly influences their attitude towards music and their approach to concert giving.
For Maria Joâo Pires an authentic life and the caring of people for each other are of vital importance.
The best example for her artistic and social involvement is her musical work with children that has been going on for many years. It is in particular with children who are heavily traumatized, such as through war, poverty, addiction in their homes and other problems, that working with music has a huge positive effect. In is this subject that has been in the center of Maria Joâo Pires' studies. They resulted in the fact that working with the voice and the breath helps these children
to retrieve their body and find their inner selves. Working with voice and breath gives stability to the children. Maria Joâo Pires worked with many children of poor surroundings and with children from orphanages. She even developed special methods for chorus work. In close cooperation with neuro-scientists and having studied pertinent scientific literature she developed a method through which a child can develop its inner self-discipline. By following the given instructions a child receives tools for its own development and learns to overcome its traumata. She carried through this work with children in Africa, in Brazil and with children of migratory background in Belgium. In Portugal she very intensely works with children's choirs.
The International Beethoven Award for Human Rights, Peace, Freedom, Fight against Poverty and Inclusion is presented  by the Beethoven Academy. It was founded by Torsten Schreiber, Director of the Beethoven Academy, and the President of the Festival of Young Artists Bayreuth, Andreas Loesch, who is also a shareholder of the Beethoven Academy. Also a shareholder of the Academy is the pianist Martha Argerich.
The Beethoven Academy was founded on March 13, 2016. The declared guidelines are Human Rights, Peace, Freedom, Fight against Poverty and Inclusion. In the context of these guidelines and in addition to the annually presented Beethoven Award, the Beethoven Academy organises a variety of cultural projects: a) The program MUTE (MUsik und TEilhabe – Music and Participation) which organises concerts in hospitals at the beds of patients whose physical and mental mobility are impaired and other groups of people who have no access to music, b) Events in the format LET'S TALK BEETHOVEN, which combines and coordinates music performances of different genres with lectures, along the guidelines of the Academy, and c) Cultural projects in areas of conflict.
The Beethoven Academy sees Beethoven as a social utopian and visionary of a different society and as such he stands in the focus of all the Academy's projects. The aim is to enlarge the reception of the composer with new concert concepts in order to attract a much larger audience to the works of the great composer.
The main sponsor of the Beethoven Award is the Auditing Firm and Tax Consultancy Solidaris in Cologne. This company's history extends to more than 90 years of success in its field of business and it is one of the few enterprises in Germany specialised on the counselling of non-profit organisations and institutions of health care and social services as well as of the free social welfare. Being one of the leading auditing and consultancy enterprises in Germany, represented in nine locations, Solidaris offers future-oriented expertises concerning all economic and legal issues for non-profit organisations of different size and legal structure.
Further supporters and partners in this cooperation are several cultural organisations in the Bonn region: Colloquium Humanum Bonn e.V., Johannes Wasmuth Gesellschaft e.V., Richard-Wagner-Verband Bonn/Siegburg e.V., Kulturring Bad Honnef e.V., ArtDialog e.V., KuKuG- Kunst und Kultur Bad Godesberg e.V., etc.
The proceeds of the evening will be used for projects of the Beethoven Academy.
The concert is expected to take place on Wednesday, January 26, 2022, 19 hs,  at the Kursaal Bad Honnef, Hauptstrasse 28, 53604 Bad Honnef.
Reservations:
Pre-bookings can be placed with Susanne Gundelach (see below)
PRESS  CONTACT
Susanne Gundelach
+49 228 95 22 80
Susanne@gundelach-bonn.de